---
presents for review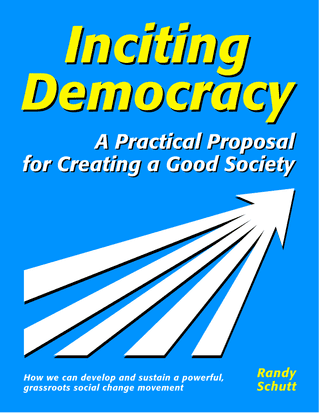 A Practical Proposal for Creating a Good Society
How we can develop and sustain
a powerful, grassroots social change movement
by Randy Schutt
---
Inciting Democracy offers a vision of what a good society might look like and explores how we can overcome five key obstacles to creating such a society. It offers a practical way to develop a large, decentralized education and support program (the Vernal Education Project) that would bolster grassroots movements so that people of goodwill can democratically and nonviolently transform society.
Special Contents: 71 figures, 44 sidebars, 270 quotations, 166 detailed endnotes, 233 annotated references, a bibliography of 110 other cited works, and a complete index
Author: Randy Schutt
LCCN: 2001116963
Publishers CIP: HN65.S38 2001
ISBN: 0-9703841-1-4
Pages: 320, 8.5" x 11", paperback
Price: $23.95
Publication date: September 10, 2001
Distributors: Baker & Taylor, Quality Books, Inc.
Web vendors: www.springforwardpress.com, atlasbooks.com, Amazon.com, Barnes&Noble.com
A copy of your review to the address below would be appreciated.
SpringForward Press
P.O. Box 608867
Cleveland, OH 44108 USA